How can one achieve secure photography in Bogotá? Colombia is a beautiful country and offers a myriad of beautiful vistas. The Capital city has some beautiful and often old landmarks that are very appealing to the eye. Located at 8,660 feet above mean sea level, the City has many lovely views and vistas, making Photography in Bogotá a treat. The City needs to be respected with a camera. Everywhere. 
Usually, visitors are not prepared for the unusual flatness of a city located so high. It is the consequence of having been at the bottom of Lake Humboldt (which today is the Altiplano Cundiboyacense), millions of years ago. You therefore need not worry about difficult trekking and climbing steep mountains!
Secure Photography in Bogotá – Everyone Wants a Local's Opinion
Friends who intend to visit often raise the question, "What do I need to do to indulge in some secure photography in Bogotá?" Some take the question a little further, "Is it safe to even bring a camera and use it in Bogotá?" Visitors are apprehensive. The feelings were created by the Country's over 50 years of civil war linked with terrorism. The narcotics reputation also does the Country no good. Visitors do have a long list of questions.
Armed robbery is unfortunately not infrequent in the City. Every local citizen has his or her own story of how someone they knew, was robbed at a knife or gunpoint. Sadly some people are known to have been killed for even an inexpensive camera, or a mobile phone.
Playing it Safe is the Best Way Forward – Some Basics
That said, if one has one's wits about oneself, the major challenge is overcome. Avoid risky areas. Act as if you know the place very well. Convey confidence in every step you take. Be mindful of your surroundings and move around. Do not stay in one place too long. Come back for a shot rather than wait for one to happen according to your own taste.
Colombians will often warn a person saying "No dar papaya!" It translates literally to, "Don't give papaya!" What they actually mean is do not flaunt your stuff: it attracts attention and creates a dangerous situation for you. Don't set yourself up to be a target of crime.
After dark, it would be inadvisable to move around with an expensive camera unless you have the safety of numbers. The number game always works! Even though I have been known to carry a camera after sunset, I would advise, "After sunset, no camera. No dar papaya!"
Secure Photography in Bogotá – Carrying Your Camera and Kit
Personally, when you are out and about, I would advise carrying a maximum of 2 lenses. One stays on the camera and the other remains in a discreet bag. When I go into central Bogotá, I take an older Lowepro SlingShot 200AW, which is more discreet than their modern versions. It is adequate for a camera body with a lens attached and two smaller lenses. It is a one-shoulder Slingshot that can remain either on my back or in front. You will find that many Bogotanos (residents of Bogotá), carry their backpacks in front. You will know the person is a local if you see anyone doing that! For them, it is a proven way of keeping the contents of the bag from thieves.
Choice of Kit for a Secure Photo Shoot in Bogotá
For a secure shoot in Central Bogotá, you will need to reduce the number of items you are carrying. Kit is always a personal choice and I should leave that completely up to you. It, of course, depends on your style of photography. I can only talk from my personal experience. These days I prefer a single Mirrorless Full-frame camera body. I mainly shoot in downtown Bogotá with a Canon 24-70 F2.8L lens. It gives me the versatility I need. Very rarely have I used a 70-200 F2.8L lens. In smaller spaces like La Candelaria streets, a Prime 35 mm lens will come in handy.
Constantly changing light conditions in the City (due to its high altitude), will create the need for a tripod. If you are carrying one, you need to be aware that it will make you visible from a distance and announce you as a professional or serious photographer.
Street Photography in Bogotá
Among the many types of different photography, street photography has a pretty prominent place. It can indeed be very rewarding in more ways than one. We know it is not as easy as grabbing a camera and shooting. It needs planning.
If you do not know Bogotá, it would be useful to get the guidance of someone who knows. It may be good also to explore the Internet about street photography in the city you intend to visit. In Bogotá, if you do not get into the street with your camera, you will never capture the beautiful colours of Colombia.
Streets all over the City offer you some amazing opportunities. Whether it is a street vendor selling Arepas or fruit. Bogotanos usually have no qualms about having their picture taken. Some will even voluntarily pose for you or wave at your camera!
I usually do not carry more than one Mirrorless Full Frame or a DSLR body. It is usually advisable to carry the camera in the bag except when you are shooting. I would advise a strong camera strap that is not branded by one of the major manufacturers. I use a Black Rapid shoulder strap along with an additional strong wrist strap attached to the camera.
My Colombian Experience
I have been living permanently in Bogotá DC since 2012. I had, of course, been visiting since 1992. I had been in and out of Colombia for 20 years before I made this beautiful Andes city my home. I must admit the early 2012 onwards were relatively safer than it is today. Armed robberies had been steadily increasing from 2010, till they peaked in 2019. Then there was a drop. The drop however was due to the onslaught of Covid-19.
When people see you with a camera outdoors in this beautiful city, many will warn you to put your camera away. As a photographer, how will you shoot photographs, without a camera in hand? There is no surefire way of staying away from trouble.
Planning the Secure Photo Shoot in Bogotá
Like everywhere else, I would recommend you plan your shoot. Talk to friends or hotel staff about your intentions and ask them for their advice. Generally speaking, it is best to completely avoid the South of the City. The North is relatively much safer. 
Please make a list of everything you will need for the shoot and everything you will finally carry, when you walk around Bogotá with your camera.
Exploring Bogotá – Colombia's Capital City!
I love shooting in and around central Bogotá and the surrounding areas. It is indeed the heart of the City. As a photographer, one however needs to always take care and be completely aware of one's surroundings in the area Click here for my recommended walking tour of central Bogotá. It is a tried and tested route for the City.
Plaza Bolívar – Where it All Happens in Colombia
Plaza Bolivar today, is the very centre of the Country. You will see the Colombian Parliament, the Mayor's Office, the Supreme Court, the Catedral Primada and the palace of the Cardinal of Colombia on the square. Could you ask for more concentration of power? It is not advisable to stray too far from the Square. It is not advisable to stray too far from the famous square.
A list of principal sites to look for on Plaza Bolívar
Casa del Florero – The Location that symbolises the commencement of the independence process from the colonial power of Spain.
Catedral Primada
Capilla del Sagrario de la Catedral de Bogotá – The 17th Century chapel.
The Cardinal's Palace
The Parliament
The Mayor's Office
The Supreme Court
Casa Nariño – The president's palace. It is located just behind the Parliament building.
La Candelaria – Where the City was Founded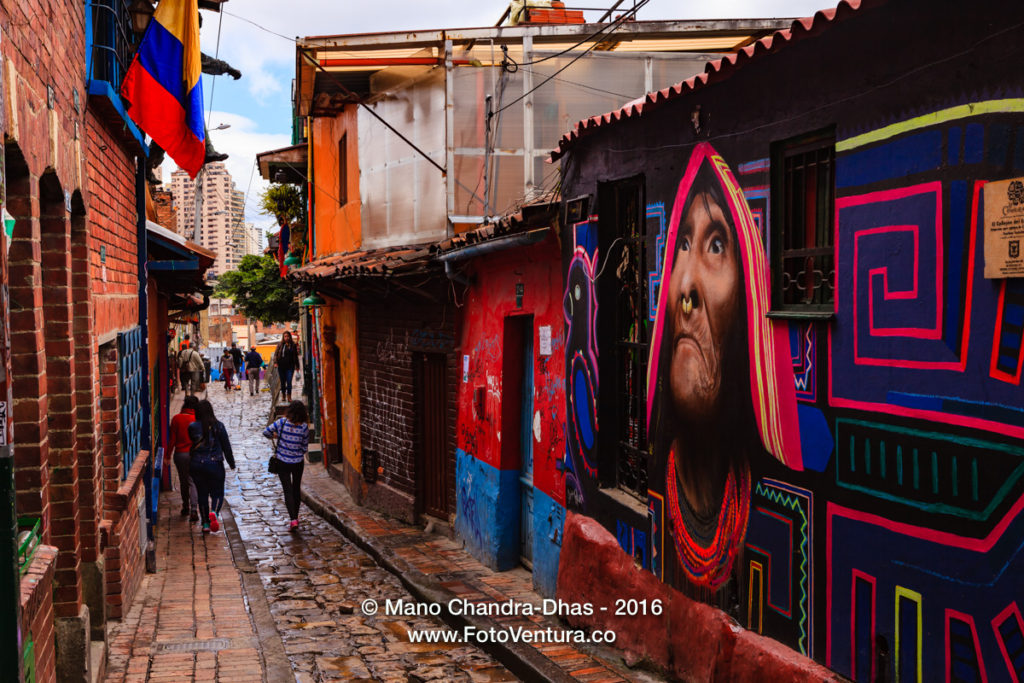 The nearby 480-year-old district of La Candelaria is absolutely beautiful with its quaint old Spanish colonial architecture and narrow cobbled stoned streets. It is in this area on the square known as Chorro de Quevedo, that Bogotá was founded by the Spanish Colonial Conquistadores.
I am however always wary of venturing into La Candelaria alone. I always take friends along with me. Even during the day when it is considered relatively safe. The area must be totally avoided after sunset. It is not safe.
Streets and Places of Interest to a Photographer
Chorro de Quevedo – the small square where the Spanish Conquistadores founded the City.
Calle del Embudo – perhaps the oldest street in Bogota.
Spanish colonial architecture in La Candelaria
Street Art – attractive and creative work can be found all over La Candelaria.
Teatro de Cristóbal Colón – the Opera in Bogotá.
The Andes Mountain Peak Of Monserrate
Every visitor, to Bogotá, will have the Mountain peak of Monserrate (about 1,500 feet above the capital city which is already at 8,880 feet above mean sea level), on their bucket list. In addition to the famous church on the peak, it offers some fascinating views of the City and the Altiplano Cundiboyacense. The peak is always full of tourists – both locals and visitors. The safest way up to the summit is by cable car. Designed by the Swiss Von Roll Company, the cable car system was commissioned in 1955. It is a reliable means of transport to Monserrate.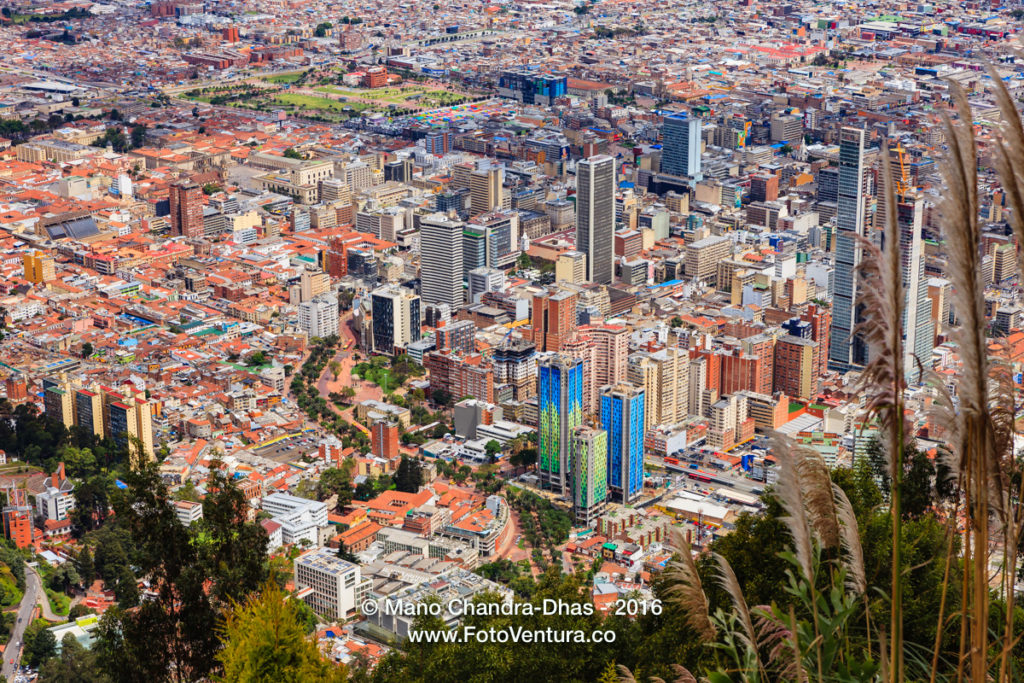 The Magic of the Golden Hour
At sunset time, during the Golden and Blue Hour, as the lights of the city come on, there are some superb views of Bogotá from the Andes peak. After finishing such a stint, one must be very careful coming down with expensive gear. It is best that all gear is hidden away in suitable and discreet bags. It may be noted that transportation at the foot of the mountain is not always easy to find. It may be best to call for a taxi, using the local mobile phone app called Tappsi. Do not hail a taxi on the streets. Always only request a taxi through one of the established apps on the Internet.
There is a road that leads up to the summit as well and during special church feast days, Latin American pilgrims climb the mountain as part of their pilgrimage, using the road. That road is to be completely avoided by visitors. It is fraught with dangerous situations. 
Places And Views To Look For When You Are On Monserrate
The Stations of The Cross – you'd have to take the right-side route to the church.
La Candelaria – If you can spot the the Candelaria view (look below when you are just out of the top cable car station), and have a 70-200 mm lens with you, you'd be in for a treat! You can capture the difference between modern and old Bogotá.
The North of the City – is an expansive and excellent view of a section of the Altiplano Cundiboyacense.
The Church – Look for the statue of the fallen Black Christ.
The magnificent view towards the neighbouring peak of Guadalupe.
The Rack Railway station
Souvenir shops to the rear of the church.
How to Stay Secure for Photography in Bogotá
My favourite method of avoiding trouble is to take a couple of friends with me. Even during the day. Most Colombians I have met are happy to walk through central Bogotá. Every single time is different. To visit the area is always a treat – even for local Colombians! They will therefore happily accept the invitation.
Their assigned job is usually to watch me like a hawk while I am busy focusing or composing my shot. If anyone shows a little more than ordinary interest in what I am doing, my friends move in closer. They really act like bodyguards! It always seems to work.
Conclusion
I hope I have not excessively cautioned you about a visit to this lovely Andes capital city. Photography in Bogotá is for me, a most enjoyable pastime. I do earn money for my efforts through my Microstock portfolio. Please see my Bogotá photographs by clicking on this link. Alternatively, if you would like a quick peep at some sample images, here is a link to a page within this site.
Is Bogotá completely safe for street photography? As you can see from the above, there is no short answer to the question. Some would argue that Bogotá is no more dangerous than downtown New York, Chicago or Rome. We need to be careful in every city in the world. There is hardly an exception to that rule.
Once you leave Bogotá and go to the towns on the Sabana de Bogota, and the many Pueblos, security is almost back to normal. You can lower your guard in the Sabana. Out on the High Plateau, the Altiplano Cundiboyacense, the country is probably safer than many other countries I know. A day trip out of the capital city is recommended for tourists and visitors. Click on this link for my recommended day trip to Zipaquirá a nearby town. Enjoy your photography in Bogotá
© Mano Chandra Dhas
Note: These tips and recommendations are made in good faith. The author cannot be held responsible for any untoward incidents that may or could happen, resulting in loss of possessions or even bodily harm, in following his tips and recommendations.
If you have any comments, suggestions or enquiries, please use the comments box below. I will respond to every message within a reasonable amount of time. Do use the Social Media buttons to share this post. I would be happy if you subscribe to my blog. You will never miss a post.